Description
Order by 5PM EST and this Part Ships TODAY!
Always Free Shipping with your AM-AutoParts orders.
Lowest price on brand new, in-the-box auto parts.
---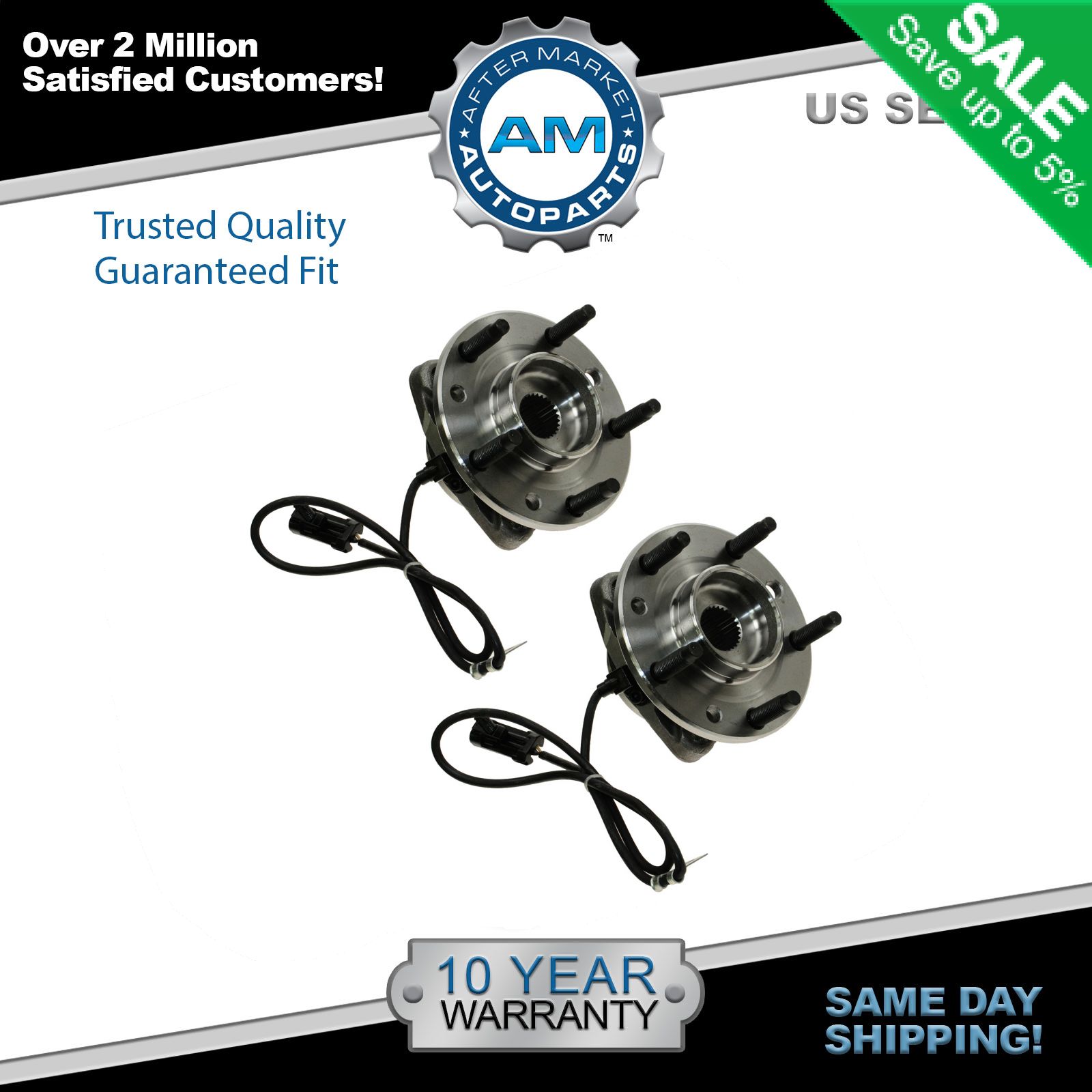 ---
(2) Front Wheel Hubs & Bearings Left & Right Pair Set for Chevy GMC Isuzu Olds
---
Detailed Applications
Front / Rear Location:
Quantity:
Specifications:
Comes as a PAIR

Fits both the LH (Driver Side) & RH (Passenger Side) FRONT

Have ABS sensors
Direct replacements
Built to strict quality control standards
2 Year Warranty
This item is backed by a 2 Year Warranty. In the event this item should fail during intended use, we will exchange the part free of charge (excludes shipping charges) for the original purchaser. Please keep your invoice for proof of this warranty.
Fits:
1997 Chevy Blazer S10 All Wheel Drive
1998-05 Chevy Blazer S10 4 Wheel Drive
1998-04 Chevy S10 Pickup 4 Wheel Drive
1998-00 GMC Envoy
1997 GMC Jimmy S-15 All Wheel Drive
1998-01 GMC Jimmy S-15 4 Wheel Drive
1998-04 GMC S-15 Sonoma 4 Wheel Drive
1998-00 Isuzu Hombre
1997-01 Olds Bravada
---
General Policies
If you have a question about a part you should contact us before buying. AM Autoparts is proud to offer you the best price and fastest service for all your aftermarket parts needs. In order to keep our prices low, we have the following purchasing policies:
Shipping and Billing:

We only accept payment from, and ship to, Confirmed PayPal addresses.
We ship 99.9% of packages the same day if ordered before 5PM EST.

Returns:

We only warranty cost of parts. Any installation or other fees are non-refundable.
If a part arrives damaged, or is defective, it is our responsibility to take care of it but it must be reported to us immediately.

Payment:

eBay Immediate Payment via PayPal. Please purchase and pay for the item through the eBay auction, and do not manually send us a PayPal payment.

Questions:

We're here for you!
We are proud to offer quality service and we want your transaction to go perfectly. Take advantage of our customer service representatives who are here to help you; contact us on eBay. Thank you for your interest and we hope to do business with you!

Business Hours

( All Times are EST )




Sunday

–

8:00AM

– 4:30PM




Monday

–

7:00AM

– 6:00PM




Tuesday

–

7:00AM

– 6:00PM




Wednesday

–

7:00AM

– 6:00PM




Thursday

–

7:00AM

– 6:00PM




Friday

–

7:00AM

– 6:00PM




Saturday

–

8:00AM

– 4:30PM
function stripItemNumber() { var title = document.title; var tmp1 = title.substring( title.indexOf("item")+5, title.length ); var item_num = tmp1.substring(0, tmp1.indexOf(" ") ); //alert(item_num);
var mailTo = document.getElementById("content_mailto"); var linkText = mailTo.innerHTML; mailTo.href = mailTo.href+" ITEM #: "+item_num; mailTo.innerHTML = linkText;
}
setTimeout('stripItemNumber()', 2000)
function setupModelDropdowns (year_list_element_id,make_list_element_id,model_list_element_id) { var year_dd = document.getElementById(year_list_element_id); var make_dd = document.getElementById(make_list_element_id); var model_dd = document.getElementById(model_list_element_id);
// quit if elements do not exist if (!year_dd || !make_dd || !model_dd) { return; }
// onchange handler for the make list make_dd.onchange = function() {_updateModels(make_list_element_id,model_list_element_id);};
// reset lists _clearList(year_dd); _addListElement(year_dd,'Choose a Year',''); _clearList(model_dd); _addListElement(model_dd,'Choose a Model',''); _clearList(make_dd); _addListElement(make_dd, 'Choose a Make','');
// populate years var start_year = 1950; var end_year = 2008; for (var i=end_year;i>start_year;i--) { _addListElement(year_dd,i,i); }
// populate make list for (var idx in make_model_data) {
// find make url var make_fields = make_model_data[idx][0].split('|'); if (!make_fields[1]) {make_fields[1] = make_fields[0];}
// add to list _addListElement(make_dd,make_fields[0],make_fields[1]); } }
// PRIVATE FUNCTIONS function _clearList(optionList) { optionList.length = 0; } function _addListElement(optionList,elementText,elementValue) { optionList.options[optionList.length] = new Option(elementText,elementValue,false,false); } function _updateModels(make_list_element_id,model_list_element_id) { var make_dd = document.getElementById(make_list_element_id); var model_dd = document.getElementById(model_list_element_id);
// reset models _clearList(model_dd); _addListElement(model_dd,'2. Choose a Model','');
if (make_dd.selectedIndex > 0) {
// populate model list var models_for_selected_make = make_model_data[make_dd.selectedIndex-(make_dd.length-make_model_data.length)][1].split(','); for (var idx in models_for_selected_make) {
// find model url var model_fields = models_for_selected_make[idx].split('|'); if (!model_fields[1]) {model_fields[1] = model_fields[0];}
// add to list _addListElement(model_dd,model_fields[0],model_fields[1]); } } }
function transformURL() { var formElement = document.make_model_search; var year_el = formElement.header_year_url; var make_el = formElement.header_make_url; var model_el = formElement.header_model_url;
var year_string = year_el.options[year_el.selectedIndex].value; var make_string = make_el.options[make_el.selectedIndex].value; var model_string = model_el.options[model_el.selectedIndex].value;
formElement.query.value = year_string + ' ' + make_string + ' ' + model_string; formElement.submit(); }
var make_model_data = [ ['Acura','3.2TL,CL,EL,Integra,Legend,MDX,NSX,RL,RSX,SLX,TL,TSX,Vigor'], ['Alfa Romeo','1750,2000,2600,Duetto,GTC,GTV,Guilietta,Milano,Spider'], ['American Motors','AMX,Ambassador,American,Classic,Concord,Custom,Deluxe,Eagle,Gremlin,Hornet,Javelin,Marlin,Matador,Pacer,Rambler,Rebel,Rogue,Spirit'], ['Audi','100,5000,A4,A6,A8,RS6,S4,S6,S8,TT'], ['Austin-Healey','3000 MK I,Sprite'], ['BMW','125ci,2002,3 Series,315,316,318,318i,318ti,320i,323i,325e,325i,328i,5 Series,525i,528i,530i,540i,545i,630csi,633csi,635csi,7 Series,728,733,735,736,737,740i,740iL,M3,M5,X3,X5,Z3'], ['Buick','All through 1953,Allure,Apollo,Caballero,Centurion,Century,Electra,Estate Wagon,Gran Sport,Grand National,Invicta,LaCrosse,LeSabre,Limited,Lucerne,Luxus,Park Avenue,Rainier,Reatta,Regal,Rendezvous,Riviera,Roadmaster,Roadmaster Station Wagon,Skyhawk,Skylark,Somerset,Special,Sport Wagon,Super,Terraza,Ultra,Wildcat'], ['Cadillac','All Models up to 1954,Allante,Brougham,CTS,Calais,Catera,Cimarron,Commercial Chasis,Concours,DTS,Deville,Eldorado,Escalade,Escalade ESV,Escalade EXT,Fleetwood,Park Avenue,Series 60,Series 61,Series 62,Seville,XLR'], ['Chevrolet','All Models up to 1954,150 Series,210 Series,3000 Series,5000 Series,6000 Series,7000 Series,Astro,Avalanche,Aveo,Bel-Air,Beretta,Biscayne,Blazer Full Size,Brookwood,C40/70 Series,Camaro,Caprice,Cavalier,Celebrity,Chevelle,Chevette,Chevy II,Citation,Citation II,Cobalt,Colorado,Concours,Corsica,Corvair,Corvette,Cosworth,Delray,Deluxe,El Camino,Equinox,Express,F60/70 Series - Tilt Cab,Fleetline,Fleetmaster,Greenbrier,Impala,Kingswood,Kodiak,LLV (Postal Truck),LUV Pickup,Laguna,Lumina,Lumina APV,Malibu,Malibu Maxx,Medium Duty Truck,Metro,Monte Carlo,Monza,Nomad,Nova,Pickup C/K Series,Pickup up to 1966,Prizm,R/V Pickup,S10 Blazer,S10 Pickup,SSR,School Bus,Sedan Delivery,Silverado,Spectrum,Sprint,Styleline,Stylemaster,Suburban,Tahoe,Townsman,Tracker,Trailblazer,Trailblazer EXT,Uplander,Van - Full Size,Van - P Series Forward Control,Vega,Venture'], ['Chrysler','All up to 1952,300,300C,300M,Cirrus,Concorde,Conquest,Cordoba,Crossfire,Daytona,E Class,Executive Sedan,Fifth Avenue,Grand Voyager,Imperial,LHS,Laser,Lebaron,Nassau,Neon,New Yorker Landau,New Yorker Salon,New Yorker,Newport,PT Cruiser,Pacifica,Prowler,Royal,Saratoga,Sebring,St Regis,TC Maserati,Town & Country,Voyager,Windsor'], ['Daewoo','Lanos,Leganza,Nubira'], ['Datsun','1200,240Z,260Z,280Z,280ZX,510,B210,D720,F10,Fairlady Roadster,Firesweep,L520,L521,Pickup,Sedan'], ['Desoto','All up to 1952,Adventurer,Custom,Deluxe,Firedome,Fireflite,Powermaster'], ['Dodge','All up to 1952,330,400,440,600,880,Aries,Aspen,Avenger,CB300 Cutaway Cab,Caravan,Challenger,Charger,Colt,Colt-Vista,Conquest,Coronet,Crestwood S.W.,Custom,D100 Pickup,D200 Pickup,D300 Pickup,D50 Pickup,Dakota,Dart,Daytona,Deluxe,Demon,Diplomat,Durango,Dynasty,Expo,Grand Caravan,Intrepid,Lancer,Magnum,Matador,Meadowbrook,Medium Duty Truck,Mini Ram,Mirada,Monaco,Motorhome M300/600,Neon,Omni,Passenger Car,Pickup - Full Size,Polara,Power Wagon,Raider,Ram 50,Ramcharger,Rampage,Royal,Shadow,Spirit,St Regis,Stealth,Stratus,Super Bee,Van - Full Size,Viper,Wayfarer'], ['Eagle','2000 GTX,Medallion,Premier,Summit,Talon,Vision,Vista'], ['Edsel','Citation,Corsair,Pacer'], ['Fiat','1200,124,1500,1800,850,Siata,Spider'], ['Ford','All up to 1951,500/700 Series Truck,Aerostar,Aspire,Bronco - Full Size,Bronco II,Contour,Country Sedan,Country Squire,Courier,Crestline,Crown Victoria,Custom,Custom 500,Customline,Del Rio Wagon,Deluxe,EXP,Edsel,Elite,Escape,Escort,Excursion,Expedition,Explorer,Explorer Sport Trac,Explorer Sport,F-Series Pickup,Fairlane,Fairmont,Falcon,Festiva,Fiesta,Five Hundred,Focus,Ford 300,Freestar,Freestyle,Fusion,Futura,Galaxie,Galaxie 500,Gran Torino,Granada,LTD,LTD II,M-450,Mainline,Maverick,Medium Duty Truck,Model A,Motorhome M-400/450,Mustang,Mustang II,Park Lane Wagon,Passenger Car,Pinto,Probe,Ranch Wagon,Ranchero,Ranger,Sedan Delivery,Skyliner,Sportsman,Sprint,Starliner,Sunliner,Super Deluxe,Taurus,Tempo,Thunderbird,Torino,Van - Full Size,Van - P Series Forward Control,Victoria,Windstar,ZX2'], ['GMC','5000 Series,6000 Series,7000 Series,C40/70 Series,Caballero,Canyon,Denali,Envoy,Envoy XL,Envoy XUV,F60/70 Series - Tilt Cab,Jimmy Full Size,Kodiak,Medium Duty Truck,P-Series,Pickup C/K series,Pickup up to 1966,R/V Pickup,S-15 Jimmy,S-15 Pickup,S-15 Sonoma,Safari,Savana,School Bus,Sierra,Sierra Denali,Sprint,Suburban,Syclone,Typhoon,Van - Full Size,Van - P Series Forward Control,Yukon,Yukon XL'], ['Geo','Metro,Prizm,Spectrum,Storm,Sunburst,Tracker'], ['Honda','600,Accord,CR-V,CRX,Civic,Civic Del Sol,Civic Hybrid,Civic Wagovan,EV-Plus,Element,Insight,Odyssey,Passport,Pilot,Prelude,Ridgeline'], ['Hummer','H2'], ['Hyundai','Accent,Elantra,Excel,Santa Fe,Scoupe,Sonata,Tiburon,XG Series'], ['Infiniti','G20,G35,I30,I35,M30,Q45,QX4'], ['International','IHC Truck,Loadstar,Pickup,Scout,Scout II,Scout Traveler,Travelall'], ['Isuzu','Amigo,Ascender,Axiom,Hombre,I-Mark,Oasis,Optima,Pup Pickup,Rodeo,Rodeo Sport,Stylus,Trooper,VehiCROSS'], ['Jaguar','XJ,XJS,XK120,XK140,XK150,XK8,XKE,XKR'], ['Jeep','CJ2A,CJ3A,CJ3B,CJ5,CJ6,CJ7,Cherokee,Comanche,Commando,DJ Series,Gladiator,Grand Cherokee,Grand Wagoneer,J Series Pickup,Jeepster,Liberty,M38,M38A1,MB,Scrambler,Tornado,Universal,Utility,Wagoneer,Wrangler'], ['Kia','Amanti,Magentis,Optima,Sedona,Sephia,Sorento,Spectra,Sportage'], ['Lancia','Zagato'], ['Land Rover','Range Rover'], ['Lexus','ES250,ES300,ES330,GS300,GS430,IS300,LS400,LS430,LX450,RX300,RX330,RX400H,SC300/400'], ['Lincoln','1949-51 Lincoln,Aviator,Blackwood,Capri,Continental,Cosmopolitan,Custom,LS,Mark III,Mark II,Mark IV,Mark LT,Mark VIII,Mark VII,Mark VI,Mark V,Navigator,Premier,Town Car,Versailles'], ['MG','MGA,MGB,MGC,Midget,TD,TF'], ['Mazda','323,3,626,6,929,Apache,Cosmo,Cronos,GLC,MPV,MX-3,MX-6,Miata,Millenia,Mizer,Navajo,Pickup,Protege,RX-2,RX-3,RX-4,RX-7,Tribute'], ['Mercedes Benz','190SL,220,220D,220SE,230,230D,230SL,240D,250,250C,250S,250SE,250SEL,250SL,280,280C,280S,280SE,280SEL,280SL,280SLC,300CE,300D,300S,300SD,300SE,300SEL,300SL,320SL,350SE,350SEL,350SL,380SL,380SLC,450SE,450SEL,450SL,450SLC,500SE,500SEL,500SL,500SLC,560SL,560SLC,600SL,C-Class,C230,C240,C280,C32 AMG,C320,C350,C55 AMG,CLK-Class,CLK320,CLK430,CLK500,CLK55 AMG,E-Class,E300D,E320,E420,E430,E500,E55 AMG,ML-Class,ML320,ML350,ML430,ML500,ML55 AMG,S-Class,S350,S430,S500,S55 AMG,S600,SLK320'], ['Mercury','1939-1951 Mercury,Bobcat,Brougham,Caliente,Capri,Capri II,Colony Park,Comet,Commuter,Cosmopolitan,Cougar (Incl XR-7),Country Cruiser,Custom,Cyclone,Grand Marquis,LN7,Lynx,Marauder,Mariner,Marquis,Medalist,Mercury,Meteor,Milan,Monarch,Montclair,Montego,Monterey,Mountaineer,Mystique,Parklane,Passenger Car,Sable,Topaz,Tracer,Turnpike Cruiser,Villager,Voyager,Zephyr'], ['Merkur','Scorpio,XR4Ti'], ['Mitsubishi','3000GT,Cordia,Diamante,Eclipse,Endeavor,Expo,Galant,Lancer,Mighty Max,Mirage,Montero,Montero Sport,Outlander,Pickup,Precis,Sigma,Starion,Tredia,Van'], ['Nissan','200SX,240SX,300ZX,350Z,Altima,Armada,Axxess,D21 Hardbody Pickup,D720,Frontier,GC22 Van,Maxima,Murano,NX,Pathfinder,Pulsar/NX,Quest,Sentra,Stanza,Titan,Xterra'], ['Oldsmobile','All through 1953,442,88,98,98-Regency,Achieva,Alero,Aurora,Bravada,Calais,Ciera,Custom Cruiser,Cutlass,Cutlass Calais,Cutlass Ciera,Cutlass Cruiser FWD,Cutlass Cruiser RWD,Cutlass Supreme FWD,Cutlass Supreme RWD,Delmont,Delmont 88,Delta 88-Royale,Delta 88,Dynamic,F85,Fiesta,Firenza,Holiday,Intrigue,Jetfire,Jetstar 88,LSS,Omega,Regency,Silhouette,Starfire,Super 88,Toronado,Touring Sedan,Trofeo,Turnpike Cruiser,Vista Cruiser'], ['Opel','1900,Manta,Opel'], ['Plymouth','All up to 1952,Acclaim,Arrow,Barracuda,Belvedere,Breeze,Cambridge,Caravelle,Champ,Colt,Colt-Vista,Concord,Conquest,Cranbrook,Cricket,Cuda,Custom,Deluxe,Duster,Expo,Fleetside Special,Fury,GTX,Gran Fury,Grand Voyager,Horizon,Laser,Neon,Passenger Car,Plaza,Prowler,Reliant,Roadrunner,Sapporo,Satellite,Savoy,Scamp,Signet,Special Deluxe,Sport Wagon,Suburban,Sundance,Superbird,Trailduster,Turismo,VIP,Valiant,Van - Full Size,Volare,Voyager'], ['Pontiac','All through 1954,1000,2 + 2,2000,6000,Acadian,Astre,Aztek,Bonneville,Catalina,Chieftain,Executive,Fiero,Firebird,Firefly,G5,G6,GTO,Grand Am,Grand LeMans,Grand Prix,Grand Safari,Grandville,J2000,Laurentian,LeMans,Montana,Montana SV6,Parisienne,Phoenix,Pursuit,Pursuit,Safari,Star Chief,Streamliner,SunRunner,Sunbird,Sunburst,Sunfire,Super Chief,T1000,Tempest,Torpedo,Torrent,Trans Am,Trans Sport,Ventura,Ventura II,Ventura/74GTO,Vibe'], ['Porsche','356,911,912,914,924,928,930,944,968,Boxster'], ['Renault','Alliance,Encore,Le Car'], ['Saab','9-3,9-7X,900,9000'], ['Saturn','Ion,L Series,Relay,S Series,Vue,Vue Hybrid'], ['Scion','tC,xA,xB'], ['Studebaker','All through 1952,Avanti,Daytona,Hawk,Lark,Regal'], ['Subaru','Baja,DL,Forester,GL,GL-10,Impreza,Impreza Outback,Impreza WRX,Justy,Legacy,Legacy Outback,Loyale,SVX'], ['Suzuki','Esteem,Forenza,Forsa,Grand Vitara,Lj80,Lj81,Sa310,Samurai,Sidekick,Sj140,Sj410,Sj413,Swift,Vitara,X-90,XL-7'], ['Toyota','4Runner,Avalon,Camry,Carina,Celica,Corolla,Corolla FX,Corona,Cressida,Crown,Echo,FJ Cruiser,Highlander,Land Cruiser,MR2,Mark II,Matrix,Mr Spyder,Paseo,Pickup,Previa,Prius,Rav4,Sequoia,Sienna,Solara,Starlet,Supra,T100,Tacoma,Tercel,Tundra,Van Wagon'], ['Triumph','GT6,Spitfire,TR2,TR3,TR7'], ['Volkswagen','411,412,Beetle,Beetle - New,Bus/Transporter,Cabrio,Cabriolet,Corrado,Dasher,Eurovan,Fastback,Fox,GTI,Golf,Jetta,Karmann Ghia,Passat,Quantum,Rabbit,Scirocco,Squareback,Super Beetle,Thing,Vanagon'], ['Volvo','120,140,164,240,260,740,760,780,850,940,960,C70,P1800,S40,S60,S70,S80,S90,V40,V70,V90'] ];